Skip to Content
Enhancing the Look and Functionality of Your Smile
Over the years, removable dentures have received a bad reputation as clunky, ill-fitting false teeth. But recent advances in dental technology have fundamentally changed dentures for the better, making them more comfortable, durable, and natural-looking. At First Impression Dentistry, our dental experts are proud to have been restoring smiles in Mesa, AZ, and the surrounding areas since 1980!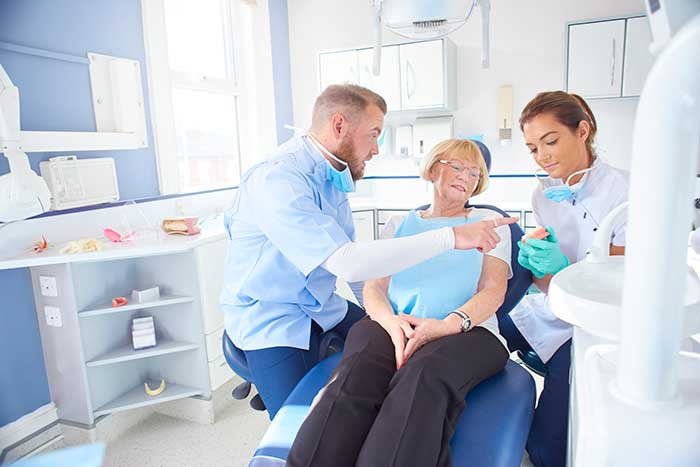 What are Dentures?
A denture is a removable replacement for missing teeth and adjacent tissues. It is made of an acrylic resin or plastic base colored to replicate gum tissue that supports a full or partial set of fake teeth. These appliances are custom made to fit your mouth, and most people rely on denture adhesives to keep them in place. Dentures improve chewing ability and speech, and provide support for facial muscles. They will also greatly enhance the facial appearance and smile.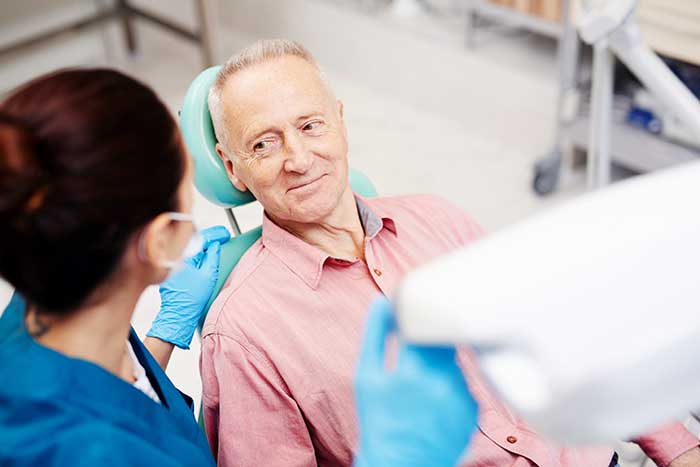 There are two Main Types of Dentures
Complete dentures:
Complete dentures are for candidates who have lost most or all of their teeth and can be classified as either "conventional" or "immediate." Conventional dentures are ready to be placed in the mouth about 8 to 12 weeks after the teeth have been removed. Immediate dentures are made in advance and inserted promptly after the removal of the remaining teeth.
Partial dentures:
Partial dentures fill in the spaces created by missing teeth and prevent other teeth from changing position. Removable partial dentures usually consist of replacement teeth attached to pink or gum-colored plastic bases, which are connected by metal framework. Removable partial dentures attach to your natural teeth with metal clasps or nearly invisible precision attachments.
Adjustments
As you age, your mouth naturally changes, which can affect the fit of the denture. So, if your denture no longer fits properly, breaks, cracks, or chips, or if one of the teeth becomes loose, see your dentist immediately. In many cases, dentists can make necessary adjustments or repairs and have them back to you on the same day, but complicated repairs may necessitate sending the denture to a special dental laboratory.
Common Concerns
Eating
Start with soft foods cut into small pieces. Chew slowly using both sides of your mouth at the same time to prevent the dentures from tipping. As you become accustomed to chewing, add other foods until you return to your normal diet.
Speech
Pronouncing certain words may require practice, but reading out loud and repeating troublesome words will help. If your dentures "click" while you`re talking, speak more slowly. You may find your dentures occasionally slip when you laugh, cough, or smile. Reposition the dentures by gently biting down and swallowing. If a speaking problem persists, consult your dentist.
Care for Your Dentures
Brush the denture with a denture brush daily to remove food deposits, stains, and plaque.
Look for denture cleansers with the American Dental Association (ADA) Seal of Acceptance.
Pay special attention to cleaning teeth that fit under the denture`s metal clasps.
Place dentures in soaking solution or water overnight.
Every morning, brush your gums, tongue, and palate with a soft-bristled brush before you put in your dentures to remove plaque and stimulate circulation in the mouth.
Eat a balanced diet to maintain a healthy mouth.
For Gentle and Effective Dental Services Call Us Today.