Skip to Content
Dental Implant Restorations
Completing Your Smile With Dental Implants
Don't let missing teeth damage your confidence levels. Instead, trust the professional team at First Impression Dentistry to help fill in the gaps with high-quality dental implants. This completely comfortable and secure option for replacing teeth is the preferred choice by many, because implants not only look, feel, and function like natural teeth, but are strong enough to stand the test of time. Dental implants can help fill in the gaps left by missing or failing teeth, giving you the complete smile you deserve. Whether you need to replace a single tooth, multiple teeth, or your entire arch, our dentists have the knowledge and expertise to ensure stunning results. Since 1980, First Impression Dentistry in Mesa, AZ, has been offering a comfortable atmosphere, compassionate technicians, and the latest advances in cosmetic dentistry — so you can count on us to give you something to smile about.
What are Dental Implants?
A dental implant is a synthetic structure that acts as a replacement for a natural tooth root. Usually made out of titanium, these screw-like implants are placed in the jawbone via dental implant surgery. Over time, the medical-grade titanium becomes integrated with the living bone, creating a strong, durable anchor for new teeth. Dental implants typically come in three parts: the implant itself, the abutment or connector that supports the tooth, and the custom-made artificial tooth or permanent bridge. In some cases, implants can be used to attach dentures. There can be some discomfort during the installation process, but the professional team at First Impression Dentistry offers a variety of pain management options to suit your needs.
Benefits of Dental Implants
Mimicking natural teeth, dental implants are so well designed that no one will even know you have them! Made of a synthetic, yet biocompatible material, dental implants are a permanent solution with no loose parts to worry about, no adjustments needed, and no constant repair work required. They also do not require altering the tooth structure to place fixed dental bridges, and eliminate the need to wear or removable a partial or complete denture.
They look and feel like your natural teeth.
They allow you to speak and chew food properly.
They are far more comfortable than removable dentures.
They are great for boosting self-esteem!
They do not require messy dental adhesives.
They can last a lifetime with proper care.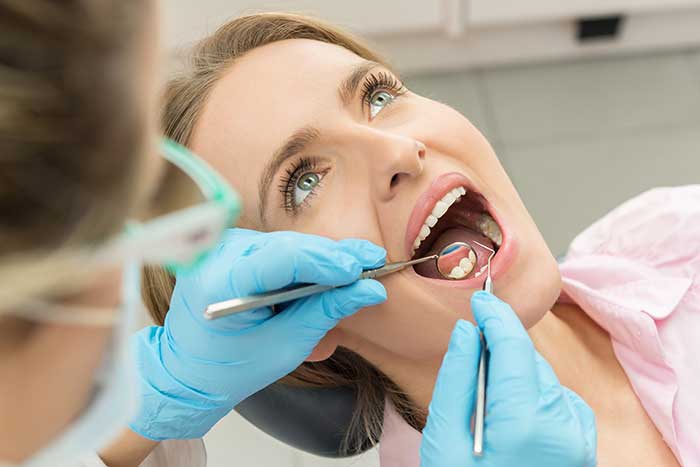 Dental Implant Candidates
Alhough most people healthy enough to undergo oral surgery can be considered for dental implants, not everyone is a good candidate. For a successful implant to take hold, a candidate should have:
Healthy gums with no periodontal disease
Proper bone density
Adequate bone in your jaw to support the implant
A strong immune system
Good oral hygiene
People who smoke heavily, have an uncontrollable chronic disorder, or have had radiation therapy to the head or neck are evaluated on an individual basis.
For Gentle and Effective Dental Services Call Us Today.